There's only one way to find out........FIGHT!!!!!!!!
Another mega busy week at lunchtime on Phoenix!
Friday:
Working backwards Friday started with a visit from JJ Zarbo and the lovely Kay Bellwood who were doing a press promo for Eric Pickles show next week (Thursday 18th).
At 11.30 I had an interview with racing driver Hunter Abbott, founder of "AlcoSense" talking about drink driving at Christmas.

At 12 o'clock actors Keira and Katie-Anna joined me in the studio for a ten minute disco and a chat about how things were going at the Brentwood Theatre in Fantastic Mr. Fox. We talked about the great reviews that the show has received in Stage magazine and the local press.
Bryan was working in the Bay Tree Centre with the promoters of the big boxing event at the Brentwood Centre on Saturday night (13th). The weigh-in took place in the Bay Tree Centre and then it all went crazy in the studio!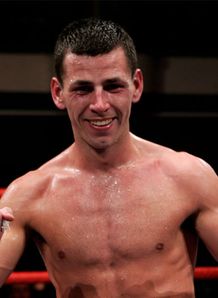 Darren Barker Jason McKay
Jim Rosenthal (sports presenter off the telly!) was looking for somewhere to interview defending commonwealth middleweight champion Darren Barker and Challenger Jason McKay so lovely Bryan said the ITV crew could use the Phoenix office…………but hang on a minute Jim R!!!!!
Before Jim R got his chance, the chaps came into the studio for their main interview with yours truly on Eat my Lunch.
Darren and Jason both fancy their chances in the big fight which will be live on ITV4 (Sat 13th). I then interviewed Darren's manager and coach, local chap, Tony Simms for good measure!!! Look out for the Phoenix crew on ITV tomorrow night!!
As if that wasn't enough for one day, I stayed on for the playlist to interview Mayor of Brentwood, Cllr Dudley Payne who spoke about his busy times in the borough and his local charities.
Thursday:
Stephen, Debs and Katie (The Foxes) came in from the theatre (twice in one day: see Centre Ground review) at about 12 o'clock and then at 12.30 I was joined by local musician and music teacher, Rob Blackman.
Rob brought in his latest album "In Transition" and we played a few tracks including Daisy Street which I have been playing regularly on the show. Rob will be performing in 2009 and you can check out Rob's website www.robblackman.com or contact him on his mobile 07812662839.
Rob's daughter, Georgia, a local artist came in last week and they both are lovely people who are new friends of Phoenix doing some great work in Brentwood.
Wednesday:
Early start with Alex who was interviewing the young ambassadors for three local schools, Anglo European (Wednesday), St.Martins (Thursday), Sawers College (Friday).

The farmers came in from the theatre Bean, Bunce and Boggis for an update on the show.
Tuesday:
Phone interview with Angela Chalmers who was talking about how bad us men get flu and how we need the utmost support from our partners to get over this debilitating illness.(True..honest!!!)
Monday:
Chris Graydon was on the phone promoting the Live and Unsigned auditions coming to Basildon. All types of musicians from different genres from punk to pop, urban to rock.
Get in touch via the website:www.LiveandUnsigned.UK.com
Written by
Posted in





To find out what's coming up and what you've missed join the Phoenix FM mailing list.


Comments

Add a comment


Please keep your comments legal, honest, decent!
IP addresses are recorded and any abuse will be dealt with accordingly!